Interplay of Divorce and Bankruptcy in Pennsylvania (Part 2)
September 19, 2016
Divorce & Bankruptcy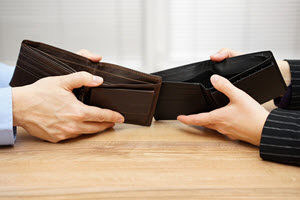 As you may have seen from my most recent blog, my firm, Daley Zucker Meilton & Miner is holding a free seminar  on Divorce and Bankruptcy on September 27, 2016 at 5:30 p.m. in our Lemoyne office.
As a follow up to my previous blog post, I will continue to talk about the interplay of divorce law and bankruptcy law.
Procedural Issues in Divorce & Bankruptcy
This particular blog will be devoted to the procedural aspects of this relationship.  First, my practice focus is bankruptcy law, but my firm does a great deal of family law.  This presents no problem where I represent a current client of our firm in a personal divorce.   However, another scenario that would permit a cost effective bankruptcy would be to have a joint referral from divorce counsel outside my firm to me to prepare a bankruptcy for a still-married couple.
In this situation, a couple contemplating divorce would each have separate counsel.  These attorneys would deal with the typical law issues related to divorce, including property settlements and custody issues, as well as any issues related to the couple's financial situation.
If it appears that the settlement might be facilitated with a bankruptcy, the two divorce counsel could jointly refer their respective clients to me.  This would not be unethical, because each client would have separate family law counsel.  The only issue I would be concerned with would be eliminating as much of the couple's unsecured debt, so that they can come to a more amicable settlement in their divorce.
Accumulated Debt – 7 or 13?
As I indicated in my previous blog, many times a divorcing couple finds that the biggest obstacle to completing a settlement is the disposition of accumulated debt.  With the bankruptcy filed before the Divorce Decree, a considerable amount of unsecured debt can be discharged in that bankruptcy.  Moreover, couples that are contemplating divorce are more likely to be able to file a Chapter 7 bankruptcy.
As many of you know, bankruptcy filings are governed by "means-testing" which means that any potential bankruptcy debtor must file a Chapter 13 if his income exceeds the state-wide median income.  This may appear to be an obstacle for a divorcing couple since the minimum length of a Chapter 13 bankruptcy is thirty-six (36) months; and most Chapter 13 bankruptcies last sixty (60) months.  Obviously, this is a great deal of time for a couple with debt that may already have an estranged relationship.
By contrast,  a Chapter 7 bankruptcy  can be completed in less than one (1) year.  If a couple is separated, then the additional expenses caused by the separation can be reviewed in the means-test analysis.  This means that in many cases, a couple that would only be eligible for a Chapter 13 while living together, may qualify for a Chapter 7 separately.  This can be a welcome situation because cooperation of the still married couple would be required.
However, if a divorcing couple  needs to file a Chapter 13 bankruptcy, this does not mean that their final Divorce Decree needs to be delayed.  As long as the divorcing couple is still married at the time of the filing, then they can continue in a Chapter 13 bankruptcy, even after their state law divorce proceedings have concluded.
Contact Us for Help – Attend Our Seminar on September 27th, 2016
As you can see, the interplay between divorce law and bankruptcy law is very complicated.  If you would like to hear more general information on this subject, please feel free to contact our firm at 717-724-9821,  or plan to attend our upcoming seminar on September 27th. 
---
Contact Us