THOUGHTS ON 242
July 2, 2018
As many of you know, July 4th is Independence Day, and this is the 242nd anniversary of the signing of the Declaration of Independence.
One of the many reasons that I am proud to be a lawyer is that most of the Founding Fathers were lawyers too.  One of my favorite stories from law school is a professor that liked to chuckle that while his colleagues in the medical field were still using leeches to suck blood out of their patients, his predecessors were writing the Declaration of Independence and the Constitution.
Many of the Founding Fathers were not only lawyers but very good writers.  One of the many reasons that school children study the Declaration of Independence is that Thomas Jefferson was a really brilliant writer.  Not only is the document incredibly succinct, it is also very enjoyable to read.  While the document does have hyperbole about the abuses of King George and poetic flourishes dealing with the human condition, by and large, the document is a rallying cry for independence.
Also, please consider the context.  Any of the signers of the Declaration of Independence could have been hanged for treason.  The Founding Founders placed their lives, property and sacred honor on the line by signing that document.  That is why the very large signature of John Hancock is so famous.  Mr. Hancock supposedly told the other delegates in Philadelphia that he wrote in very large letters so that King George could see Hancock's signature without his spectacles!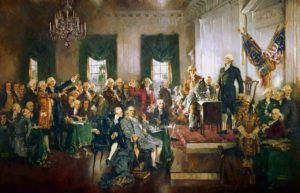 In any case, the other Founders were very prophetic about the way the Fourth of July would be celebrated.  Even at the time, John Adams indicated that the Fourth of July would be a time for fireworks and other celebrations.  Unlike many countries that have nationalistic military parades and other public spectacles, the Fourth of July is usually celebrated by families on a small scale.  Rather than grandiose military parades, we settle for picnics, barbecues and occasionally a trip to the beach.
In any case, Daley Zucker Meilton & Miner, LLC, wishes you a very happy Fourth of July and hopes that you enjoy this blog.
As always, if we can assist you with any of your legal problems, please feel free to contact us at 717-724-9821.
---
Contact Us