GFWC Pennsylvania Partners with HOBY to help Children
May 22, 2019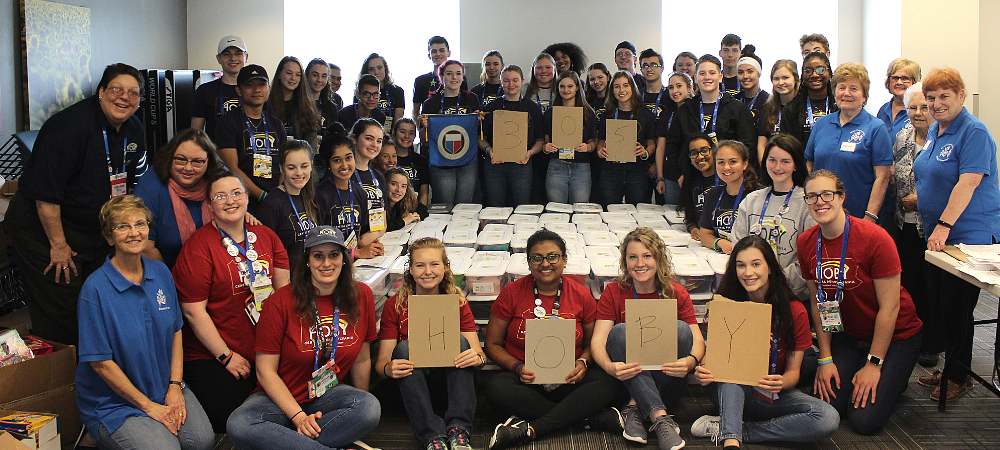 Clubwomen, representing GFWC Pennsylvania, joined forces with HOBY students to prepare, organize, and donate 305 Jared boxes and 67 pillowcases during the Central Pennsylvania Youth Leadership Seminar service project held on May 18, 2019.  The Jared boxes will be distributed to Geisinger Holy Spirit Hospital in Camp Hill, Pennsylvania in support of the Jared Box Project.  Clubwomen in the GFWC PA South Central District donated funds to purchase the boxes and all supplies.  The HOBY students donated all the items used to fill the boxes in the outreach project.  The pillow cases will have draw strings added and be given to Children and Youth agencies to be used when a child is removed from their home instead of a garbage bag!
HOBY's flagship program is the annual Leadership Seminar designed for high school sophomores to recognize their leadership talents in becoming effective, ethical leaders in their homes, schools, and communities. The four-day seminar takes place each spring at Shippensburg University where students from Central PA gather to experience hands-on service projects, a full day model legislature, and interactive presentations from community and business leaders. Central PA HOBY is a non-profit organization, a local affiliate of Hugh O'Brian Youth Leadership that has been known as the nation's premier youth leadership development organization for over 50 years. centralpahoby.org
Many of the GFWC Pennsylvania clubwomen volunteering their time for the 2019 service project are proud alumni and supporters of Central PA HOBY. They are from the Upper Allen Woman's Club GFWC – Barbara Rigney, Vicky Ann Trimmer (Central PA HOBY Board of Trustees); from the Federated Women's Club of Hershey – Clara Hess, Carol Foley (Past Central PA HOBY Board member), Sara Ruppel (HOBY Alum).  Daley Zucker Meilton & Miner, a central Pennsylvania Law firm, sponsored lunch for HOBY students and Sandra Meilton, Esq. volunteered for the day to support the project.  GFWC PA State President Shelly Smolnery made a presentation to the student in the morning about GFWC and the importance of community volunteers.
A Jared Box is a plastic shoe-box sized storage container filled with small gifts, toys, games, and other fun activities selected for a child's specific age and gender. The goal of the Jared Box Project is to lift the spirits of children who are being treated in hospitals.  The Jared Box Project, a nonprofit organization, was started in 2001 by the children at Our Lady of Victory School in State College, Pennsylvania, to honor their classmate and friend, Jared, who was a brave little boy who battled cancer with courage and faith that continues to be an inspiration to many people. TheJaredBox.com
The General Federation of Women's Clubs Pennsylvania (GFWC Pennsylvania) is part of the General Federation of Women's Club — one of the world's largest and oldest women's volunteer service organizations. GFWC Pennsylvania represents six geographical districts, 27 counties, including 6 County Federations, and 80 clubs with an approximate membership of 2500.
GFWC and GFWC Pennsylvania proudly partners with HOBY encouraging participation and support from members locally as well as internationally. To learn more about the organization, their partnerships, the volunteer service organization in general, or becoming a member, please visit their website at GFWCPennsylvania.org and GFWC.org.
---
Contact Us