Vicky Ann Trimmer Joins DZMM
May 8, 2015
Meet New Partner, Vicky Ann Trimmer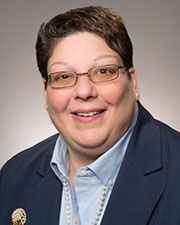 Daley Zucker Meilton & Miner is pleased to announce that we have been joined by our new partner, Vicky Ann Trimmer. Vicky brings her extensive knowledge and experience as both a lawyer and certified public account to DZMM.  She practices the areas of estate planning and administration, elder law, business law, administrative law, taxation and agricultural law.
In addition to her extensive legal experience, Vicky shares an interest in public service with the other attorneys at DZMM. She is President of the General Federation of Women's Clubs of Pennsylvania, an organization that seeks to enhance lives through volunteer service.
To learn more about Vicky, read her full biography. Daley Zucker Meilton & Miner is a full-service law firm in Central Pennsylvania. For more information about the firm see, visit us.
---
Contact Us