From Same Sex Marriage to Marriage in Pennsylvania
May 22, 2014
Same Sex Marriage is Now the Law in Pennsylvania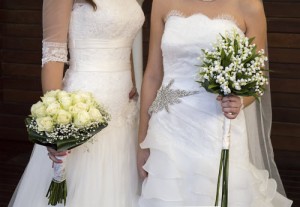 By now most of you have heard that Judge John Jones, U.S. District Court Judge in Harrisburg, has permanently enjoined the provisions of the Domestic Relations Code that allowed only traditional marriage in Pennsylvania. The Domestic Relations Code defines marriage as only between a man and a woman. For reasons cited in his Opinion, Judge Jones has ruled this law unconstitutional. Additionally, it is the writer's understanding that Governor Corbett and his legal team have decided not to appeal Judge Jones' Order. This means that "same sex" marriage is now given the same standing as any other marriage in the Commonwealth of Pennsylvania.
Estate Planning for Gay and Lesbian Couples in Pennsylvania
This has broad implications for estate planning for gay and lesbian couples. As many of you know, the process of preparing Wills, Powers of Attorney and Trust documents for same sex couples has been very complicated and expensive. Gay couples have struggled to minimize tax liability by creating Trust arrangements and other types of Domestic Relations Agreements because they did not enjoy the same laws as heterosexual couples in Pennsylvania. This has now changed. For this reason, gay and lesbian couples should carefully examine their estate planning documents, and consult with an attorney to determine their new rights under the decision known as Whitewood v. Wolf. For instance, with the law change, a number of legal issues must be addressed.
The Legal Process of Marriage – What Documents do Gay Couples Need After They Get Married?
First, for gay and lesbian couples contemplating marriage, they should go through the legal process like any other couple contemplating marriage. That is, purchase a marriage license and go through a legal or religious ceremony. At that point, estate planning documents can be drafted which give all of the legal protections accorded any other married couple in Pennsylvania. This includes far easier transfer of assets at death with minimal or no taxation on the transfer.
Likewise, for Power of Attorneys relating to business and medical issues, legal spouses will be given presumptive authority to deal with any kind of necessary decision where his or her spouse is unable to make those decisions on his or her own.
Married in Another State Already?
For gay and lesbian couples that have married in other states where gay marriage has been legal, you should also immediately review your documents with your attorney. Very likely they can be simplified since you now have all of the legal protections accorded to heterosexual couples in the past. Moreover, some of the complicated planning may no longer be necessary, which may actually slow down estate administration or cause unnecessary legal expense. Likewise, Powers of Attorneys for medical and business decisions should also be carefully examined. If you have done estate planning with Trusts, these documents should also be looked at too.
Not Married but Prepared Documents Previously?
Finally, for long term couples that did not enjoy marital status in Pennsylvania or any other state where gay marriage is legal, they should review their documents and determine whether or not marriage makes sense to them. Very likely, Domestic Partnership Agreements and similar documents should be reviewed to see if they still serve their intended purpose. For people that are not contemplating marriage at this point, it is certainly worthwhile to determine whether these documents are still viable under the current state of the law.
Contact the Harrisburg Family Law Attorneys of DZMM for Help
Readers are advised to seek legal counsel to determine what is most favorable to each individual's or couple's situation. Daley Zucker Meilton & Miner and the writer, Steven P. Miner, Esq., are available to answer your questions. Contact us at 717-724-9821.
Congratulations to all Pennsylvanians on this historic decision making "same sex" marriage just marriage!
---
Contact Us