Free Seminar Divorce after 50 in Pennsylvania!
May 23, 2014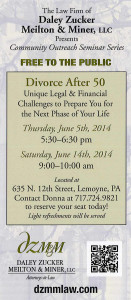 Considering a Divorce After 50?  Attend our Free Seminar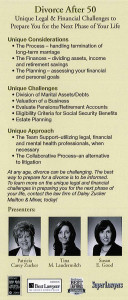 If you are considering a divorce and are over 50 there are many unique legal and financial challenges you will face.   Find out what you need to know by join DZMM's award winning family law team for a free seminar.  If you are contemplating a divorce, Divorce After 50, will help you prepare for the next phase of your life.
Location:
645 N. 12th Street, Suite 200, Lemoyne PA
Call Donna at 717-724-9821 to reserve your seat.
Dates:
Thursday, June 5, 2014
5:30-6:30 pm
Saturday, June 14, 2014
9:00-10:00 am
During the seminar we will address:
Unique Considerations
Unique Challenges
Division of Assets and Debts
Business Valuation
Pension and Retirement Accounts
Social Security Benefits
Estate Planning
Unique Approach from DZMM
Daley, Zucker, Meilton & Miner is an award winning family law firm.  We offer a unique approach to each and every divorce client.
Our team works together to provide you with support.  We help you to identify and use all different types of professionals when necessary, including our legal team, and financial and mental health professionals when necessary.
DZMM also offers both traditional and collaborative divorces. A collaborative divorce can be an alternative to litigation.
---
Contact Us