Free Seminar – Bankruptcy After 60
August 11, 2014
Bankruptcy After 60 – More Common Than You Think
A Free Seminar from DZMM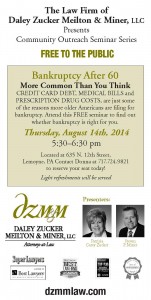 While many people think that someone who is 60 might be immune from needing to file for bankruptcy, the reality is quite different.  Whether it be medical bills, prescription costs or credit card debt, many older Americans are unable to pay their bills. As a result, the need for a bankruptcy after 60 has become quite common.
Join Our Seminar on August 14 in Lemoyne
In order to help those who are 60 and older understand their rights and options, DZMM's attorneys are pleased to offer this free seminar on Thursday, August 14th.  "Bankruptcy after 60" is part of our community outreach series. We are offering this series of seminars to the public because the Harrisburg bankruptcy attorneys of DZMM want to make sure that you make the best choices for you and your family.
Bankruptcy After 60 – How to Register
Bankruptcy after 60  will be offered in DZMM's offices at 645 N. 12th Street, Suite 200 in Lemoyne.  The time is 5:30-6:30 pm. Light refreshments will be served.
Call today at 717-724-9821 to reserve your seat. Ask for Donna.
---
Contact Us